Did you know that your Internet Explorer is out of date?
To get the best possible experience using our website we recommend that you upgrade to a newer version or download another web browser.
A list of the most popular web browsers can be found below. Just click on the icons to get to the download page.
Your browser will need to close to complete the installation and you will need to manually reload the site when finished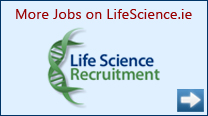 Search Results for Biotechnology
Job Title.
Location
Salary
Actions

Manufacturing Process Specialist

We're currently recruiting for an exciting opportunity with an award winning pharmaceutical organization based in Cork. This is an excellent position for anyone who is looking to join a leading multinational who are one of the best at what they do. Duties • Supports manufacturing investigations, troubleshoot technical issues and provide general technical service support for manufacturing facilities and marketed products. • Reviews and updates documentation of the production processes, recommending modifications as appropriate. &b...

Location: Cork, Manufacturing Process Specialist
Cork
Not Disclosed

Project Manager - Supply Chain

A Project Manager – Supply Chain is required to join a leading Pharmaceutical business in Dublin on a contract basis. The Project Manager is a key member of the Strategic Planning & Operations team working in the Supply Chain Organisation. This team have the responsibility of delivering the short term Operational Finite Schedules, long term Strategic Planning, labour models & capacity planning plus execution of Strategic projects. The Project Manager will have the responsibility for the delivery of programs/projects and continuous improvement ini...

Location: Dublin, Project Manager - Supply Chain
Dublin
Not Disclosed

Supply Chain Manager

A Senior Supply Chain Manager with a strong experience gained within the Pharma / Biotech industry is required to join a leading Pharmaceutical business in Dublin on a contract basis. This person has ownership and manages the medium to long term supply plan. In this role you will accurately forecast, plan & schedule products ensuring that optimal supply inventory levels are in place to meet demand requirements whilst minimizing scrap risk and optimising and improving reliability, responsiveness and stability of supply. Responsibilities: • Ma...

Location: Dublin, Supply Chain Manager
Dublin
Not Disclosed

External Manufacturing Manager

Consistently ranked as a "Top Employer" in Science Magazine's rankings for pharmaceutical and biotechnology companies, our client offers a unique, world-class opportunity. A candidate with strong external manufacturing experience is required to join this dynamic team as either an Associate Manager, Manager or Senior Manager. The External Manufacturing Manager has responsibility for the operation of clinical and commercial parenteral drug product manufacturing in the External Manufacturing Network. They coordinate all aspects of manufacturing operations ...

Location: Limerick, External Manufacturing Manager
Limerick
Not Disclosed

Consultant

Life Science Recruitment is a specialist recruitment agency with a focus on the recruitment and selection of professionals for the pharmaceutical, biotechnology

Location: Cork, Consultant
Cork
Not Disclosed

Senior Supply Chain Planner

Senior Supply Planner Our client, a global pharmaceutical organisation are currently recruiting for a Senior Supply Chain Planner to join their team on a perm

Location: Dublin, Senior Supply Chain Planner
Dublin
Not Disclosed

Mechanical Design Engineer

Mechanical Design Engineer required to focus on the development of cutting edge medical devices in the Cardiac and Vascular space. Engineers are directly involved in the development of innovative products for use in medical procedures. Principal R&D Engineers are directly involved in all stages of the product development process from concept generation through to commercialization of cutting edge devices such as structural heart devices. Responsibilities: Support basic clinical need through opportunity assessment and device concept to prototype. You will participate in...

Location: Galway, Mechanical Design Engineer
Galway
Not Disclosed

QA Specialist (QC)

This position is responsible for carrying out tasks and projects related to management of Quality Assurance activities at Janssen Biologics as required by Good Manufacturing Practice (GMP). These activities include Incoming material release, Batch release, Change control, Event management, Supplier qualification, Annual product review and Validation compliance activities.Provide support and direction to all departments in respect of specific quality system elements to ensure business, quality and compliance goals are met. GENERAL SCOPE OF RESPONSIBILIT...

Location: Cork, QA Specialist (QC)
Cork
Not Disclosed
Subscribe RSS feed for this search
Biotechnology Jobs Career Profile
Are you looking for a biotechnology job in Ireland? Here at Life Science we have a wide selection of biotechnology jobs to ensure that you find a vacancy that meets your needs. We partner with leading multinational, indigenous and public sector organisations bringing you the best biotechnology jobs in Dublin and Ireland. All of our consultants have graduated with masters in a biotechnology discipline and between them they have worked in some of the most diverse, challenging and rewarding biotechnology jobs in Ireland. They have a thorough understanding of the biotechnology jobs market so will be able to guide you on your career path.

Have a look below at some of the outstanding biotechnology opportunites that we have for you. If you cannot find the perfect match just contact a member of our Biotechnology Jobs Team who will only be too happy to help find that perfect biotechnology job for you.